After 3.5 years, tomorrow - June 1 - Building Maker is retiring, surrendering to the new, 45 degree imagery on Google Maps and Google Earth. Building Maker was introduced in October, 2009, and was first not very welcome by the geomodelling community as the automated process was fast but resulted in very poor models. Later, it was possible to re-import Building Maker models into SketchUp and finalize them there - a huge step forward to quality buildings. In SketchUp 8, Building Maker was already integrated into the software so one did not even need to leave SketchUp to access its features and immediately import the model for further tweaking.
Have you been wondering why the "Add New Building" icon is now missing from the Google Toolbar?
Well, it's because Building Maker is retiring and users will not be able to use it anyway. The new, 45 deg imagery is gradually replacing all 3D models in Google Earth (yes, soon SketchUp models, too) and Building Maker is no longer needed to populate the Earth.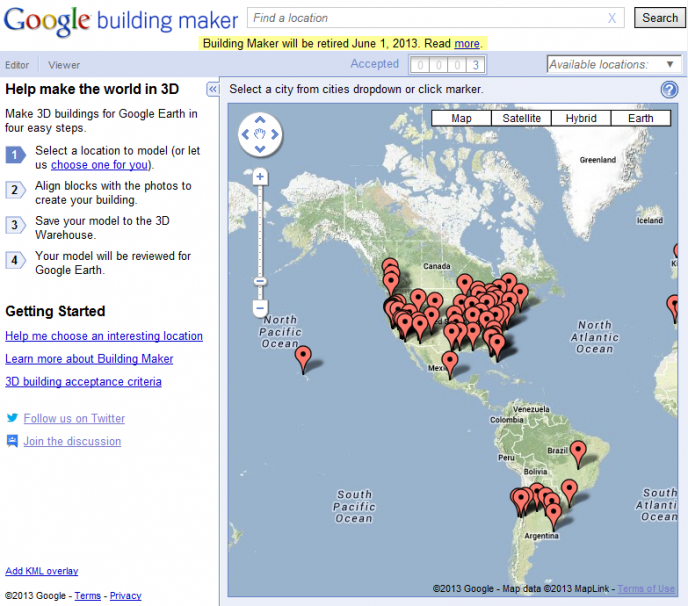 So SketchUp 3D too? Yes, sooner or later (let's face it; it's unlikely that Google will cover the whole globe with the new, 45 deg. imagery - just as well as they could not cope with the Building Maker imagery coverage). If you still wish to see your (or others') SketchUp 3D models in Google Earth, you will need to disable 3D Imagery under Options.
Let's face it: an era is over, and with SketchUp becoming a more professional tool than it was intended under Google, the role for local enthusiasts populating Google Earth and promoting their locations and communities is soon over.