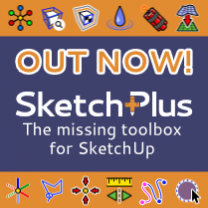 SketchPlus for SketchUp is an extension that adds a large number of easy-to-use tools, many of which are inspired by existing popular free plugins or are commonly found in other 3D modeling applications.
Read on for all the details of SketchPlus or give it free 15 day trial.
Cost and License
There are three types of licenses offered for SketchPlus:
Standard Annual Subscription MSRP $25 USD / year.
Lifetime License (Perpetual) MSRP $89 USD.
Free 15-day Trial.
Initial Release Features
SketchPlus has more than 30 tools and features including: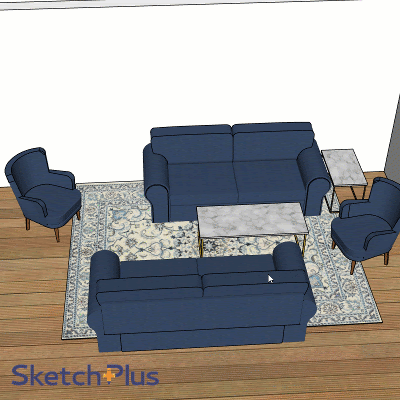 Selection Filter
Lasso Select
Polygon Lasso Select
Deep Select Face
Paint Select
Select all Instances
Select Previous / Select Next (Selection Memory)
Component Finder
Explode+ (Recursive Explode)
Change Axes+
Mirror+
Smart Array
Path Array
Replace Component+
Random Spin
Random Scale
Random Position
Drop+ (Drop objects on the surface below)
Move to Origin
Nudge
Align
Move to Z
Flatten to Ground
Sphere Tool
Cone Tool
Torus Tool
Make Faces+
Unpaint (all entities recursive, groups / components, or faces / edges)
Untag (all entities recursive, groups / components, or faces / edges)
Deep Paint Faces
Benefits to the users
Provide highly useful features of many of the most popular free extensions in a convenient bundle format.
Drastically reduce the number of plugins that must be managed by the user or team making it easier to deploy and update when new versions of SketchPlus or SketchUp are released.
Provide an easy-to-use consistent user experience and UI for the tools that feels just like the built-in SketchUp tools. SketchPlus tools are designed to complement each other rather than overlap each other.
Users don't need to worry about the SketchPlus tools conflicting with each other.
What Versions of SketchUp are Supported?
SketchUp 2017 Make / Pro or newer (Mac or Windows) is required to use SketchPlus. With plans to support future SketchUp versions as well.
Which license type should I choose?
Since there is both yearly subscriptions and lifetime versions available it really comes down to how much you use these tools. The Selection, Move and Component based tools are definitely needed additions to SketchUp and you will likely find these your most used.
Whereas Tag and Material tools are more utility based when you need to clean up shoddy material application or Tag assignment.
Worth a buy?
Based off some exploratory chats with Mindsight Studios, SketchPlus is a type of living Extension. One that will see continuous improvement over time. These improvements and additions will likely come from user feedback and requests.
Personally, I would go for the lifetime license. But before that I would definitely make use of the 15 day trial. I do see merit in the subscription model if I just needed to access these tools for a particular project or model.
30 tools for $89 is a good offering. Whilst 60-70% of the tools are already available for free between here, Extension Warehouse and GitHub it's the extra level of care put into these tools that make it stand out.
Component+ and Move+ toolset of SketchPlus are the stars of the show. Well thought out and implemented.