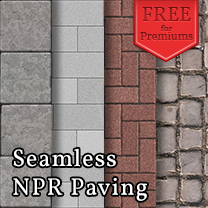 by Rich O'Brien
$1.99 Free for premiums
SKM (21.3 MB)
(ZIP format)

This material pack contains 56 non photo-realistic textures to add to your SketchUp materials library. Each texture is 600px x 600px and tileable. There are 9+ pattern variations and numerous colour variations.

Registered users can download a sample containing 6 textures.
Premium Members can download for free.
To install into your SketchUp Materials Library you will need to unzip and add the folder as a collection.