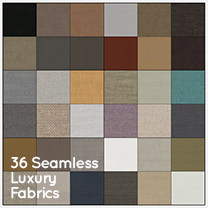 by Rich O'Brien
$1.95 Free for premiums
SKM(12.4MB)
(ZIP Format)

SketchUp Seamless Luxury Fabrics are inspired by the haute couture fashion houses are sure to bring timeless elegance to any interior scene in SketchUp.

This material pack contains 36 photo-realistic fabric textures to add to your SketchUp materials library.

Each texture is 512px x 512px and tileable.

Registered users can download a sample containing 5 textures.

Premium Members can download for free.

To install into your SketchUp Materials Library you will need to unzip and add the folder as a collection.