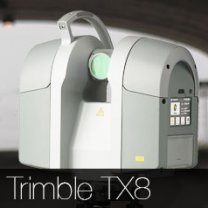 New Trimble TX8 3D Laser Scanner Scans at 1 Million Points per Second via Trimble's Lightning Technology.
The Trimble TX8 utilizes Lightning™ technology that delivers uncompromising performance in terms of range, accuracy and speed of measurement. Built to handle even the most demanding environments, the Trimble TX8 provides efficient, reliable operation in applications including plant and industrial measurement, engineering, surveying, architecture, construction and forensics.
Combining high-speed measurement with long range and exceptional ease of use, the Trimble TX8 3D laser scanner sets new standards for performance and flexibility in laser scanning. By completing typical 360 degree scans in 3 minutes or less, and scanning at a range of 120 meters, the Trimble TX8 reduces time on site while enabling users to create precise, high-density 3D point clouds quickly and easily.
The Trimble TX8 has unmatched flexibility, by featuring the option to upgrade the measurement range to 340 meters, either now or in the future. The range upgrade provides Geospatial professionals with true jobsite flexibility; reducing the number of scan stations and expanding the capabilities of the Trimble TX8 to a larger variety of applications.
With Trimble's patented Lightning technology, the Trimble TX8 scanner provides high speed and precision over the full range of measurements. The innovative technology accurately measures the time, at the nanosecond level, for a pulse of light to be transmitted to and reflected from an object back to the scanner. The time-of-flight provides the distance to the object with millimeter level accuracy at 1 million measurements per second.
"The Trimble TX8 provides a revolutionary leap in performance for surveyors, engineers and geospatial professionals," said Phil Sawarynski, business area director of Imaging Solutions for Trimble's Geospatial Division. "With fast, precise data capture over the scanner's entire range, customers can significantly reduce field time, while having full confidence that they are capturing the data they need for generating high-quality deliverables."