Clara.io is a new cloud-based 3D modeling, animation and rendering software tool that runs directly in your web browser.
It requires no downloads, no licenses and no configuration to be up and running in minutes.
This is certainly an interesting development for 3D enthusiasts. Especially considering the free plan they offer which is up to 5GB of storage.
Want to find out more read on....
Clara.io launched nearly 1 year ago at SIGGRAPH 2013 to much noise from the CG community. Since it's early demos it has gone from strength to strength and with now over 65,000 users.
Looking at it's feature set it is hard to find a chink in it's armour. From file versioning and collaboration to rendering with V-Ray it seems the team at Exocortex Technologies have really pushed the boat out.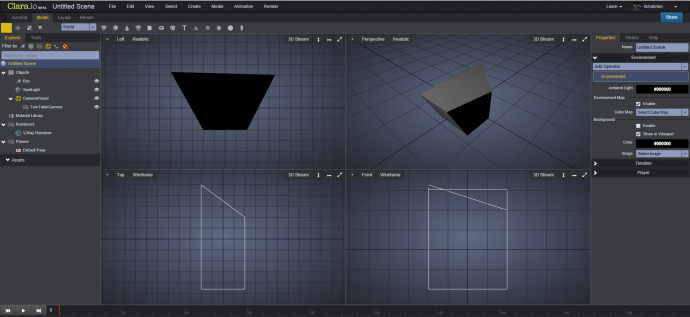 Features of Clara.io
Powerful Modeling Tools
Import/Export Anything
Modern Interface
Easy Sharing + Embedding
VRay Cloud Rendering
Multi-Platform
Scripting, Plugins + REST API
Multi-Platform
Collaboration + Versioning
Getting started with Clara.io
There are an abundance of tutorials that help new users come to terms with Clara.io interface and usage.
If you are already familiar with packages like Modo, 3DS Max or Blender then you will feel at home using Clara.io.
Pricing of Clara.io
We mentioned the free account to get to grips with Clara.io but there are also 2 priced plans that offer further features. The plans offer more in terms of storage, private sharing and rendering and WebGL embedding.
Library of Clara.io
Clara.io leverages the online experience by providing a mammoth library of ready made models to download, view or share. The Library already has thousands of models that uses the power of WebGL.
Clara.io is a full fledged 3D modeling solution that at times is hard to believe it is running in your browser. You can find out more about Clara.io and try it completely free if you sign up.
It is still currently in beta but it is already looking quite impressive! One to watch for the future....