Discover your next favourite extension...
Sketchucation Tools is your portal to design productivity!
Latest version 4.3.1
for or
Instant access to +900 SketchUp extensions
What does it do?
Find extensions by name, author, popularity or category
Install extensions easily in SketchUp
Support developers by donating directly to their PayPal account
Enable and disable extensions across sessions
Sync extensions across multiple devices
SketchUcation Tools is essential when it comes to managing extensions in SketchUp Pro.
Extending SketchUp has never been easier with a suite of tools that make installing and disabling plugins and extensions a one click operation.
The best part is....it's free!
That's right. Register an account on Sketchucation and gain access to the most popular SketchUp resource on the web.
Try it...we're sure you'll love it!
Staying Updated with New Plugins and Extensions
Using the Recent and Popular filters you can quickly track down any new goodies available in the store and see what other SketchUp users are enjoying the most.
Filtering over 600 plugins needed something to make things easy for users so we now track the downloads of every plugin in the store. This means you can identify what's hot at a glance.
We plan on adding to this with a rating system so members can rate plugins and extensions directly within SketchUp. So this popularity feature will get stronger with time.
As an added any future updates to the PluginStore itself will be pushed direct to your PC or Mac so as soon we update you will be notified. This means as our tool evolves you will now immediately that you need to upgrade.
Upgrading will be as simple as using the AutoInstall to update. How crazy is that?
Our Plugins Manager allows you to see a full list of plugins you have currently loaded into SketchUp.
Simply select the plugins and use our propriety system to Disable, Load or Enable and next time you start SketchUp they will be disabled.
This powerful feature will allow you to customize your modeling experience and tailor SketchUp with the toolsets you need for any situation.
Managing plugins in custom folder locations is also supported. So, whether you are in a networked environment or just like to keep things synced to the cloud, our Plugin Manager will allow you to manage plugins outside the default setup.
Reactivating plugins is as just as quick. Just select, click and you are done. It really is that simple!
Everything is colour coded so if it is GREEN it will load everytime SketchUp starts, ORANGE is just for this session and if it is RED it will be disabled.
Give it a try....it's easy!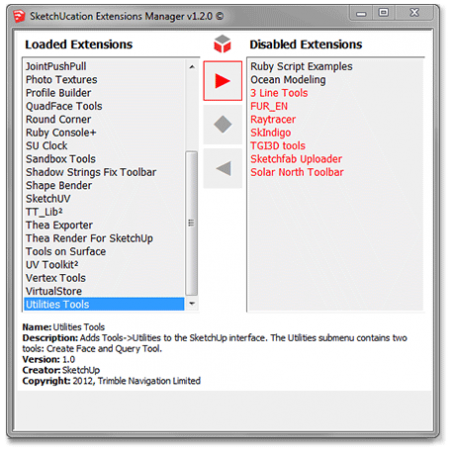 The Extensions Manager works in exactly the same principle. What is on the left is activated and on the right is deactivated.
You can Enable, Load and Disable any extensions you want and it will load dynamically for the session.
By separating plugins and extensions into 2 dedicated managers you have a full overview of what is loading when you use SketchUp.
Running lots of plugins and extensions in SketchUp can cause slow start up times and compatibility issues. Tracking down these issues is now even easier.
When you combine the Plugin Store and Managers you get total control over every aspect of SketchUp for free.
When you add the direct support available through the More Info button you have the most integrated plugin support ecosystem on the web.