In the scene below, there are two groups we wish to intersect with each other. Select both and Intersect Faces either With Model or With Selected (in this case, as there is no other geometry around, it is indifferent).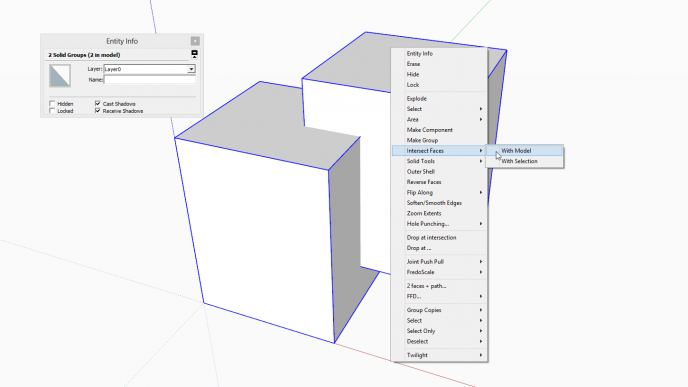 Notice however that neither group has been affected by the intersection. If we move them apart, we can see both intact and we can also see the intersection lines created - but they are only hovering in the thin air. Unless you wanted specifically this (why not, there can be cases), most of the times this is not the desired effect.
The reason simply is: intersection always works in the editing context you are in (in this case, at top - model - level) so the lines are also created in this context and since we have the geometry we want to affect inside the groups, they remain unaffected (note that groups and components are the way to separate geometry and keep it unaffected by other geometry so this is actually the intended behaviour).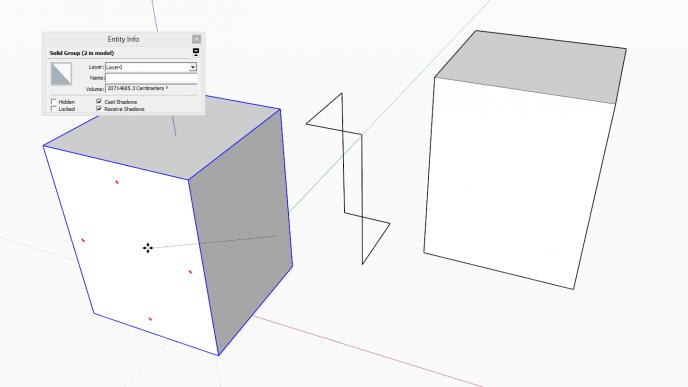 All right, let's see what happens if we enter the editing context (aka "edit") of one of the groups; double click on it then select all (with a selection box or triple clicking or Ctrl+A etc. - actually, if you triple click the group when opening it (instead of double clicking), SU will also auto-select all its inner geometry). Right click again and Intersect (now we also have "Intersect With Context" - more about the different kind of intersection in our next tutorial).
As we can see (after hiding the other group), the intersection lines have now been created in the group's editing context and they even affect geometry dividing the faces. Now our problem is however (if it is a problem and we did not intend it this way) that these edges only appeared in this group (the other, now hidden group is still unaffected).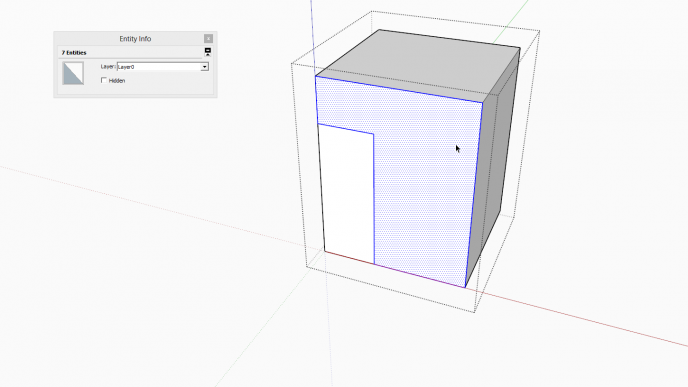 If we want both groups to be affected (and maybe eventually create one set of geometry of them), we need to get their geometry into the same editing context - either a level higher (in our case that's the top, model level) or my moving the geometry of one into the other. Below we do the first variation: select bot, right click and "explode".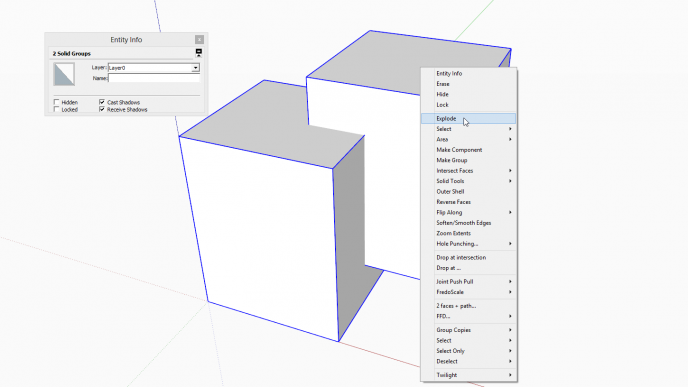 Now the groups vanished, all the geometry is at top level and can be intersected affecting all. This may often not be what we want however (after all, we made the groups to separate geometry from other geometry and now we are back where we probably started).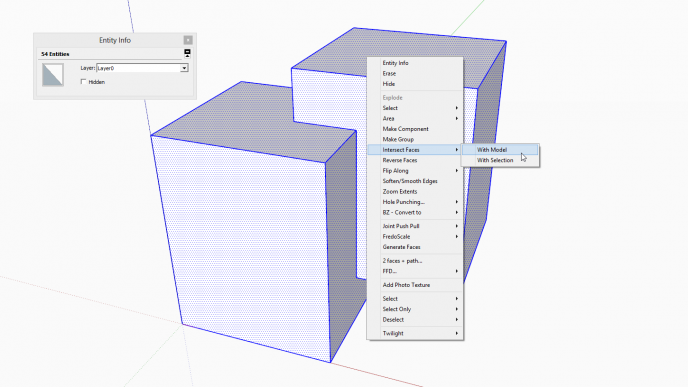 A more convenient method (to keep geometry separated inside a group) is to edit one, select all, cut...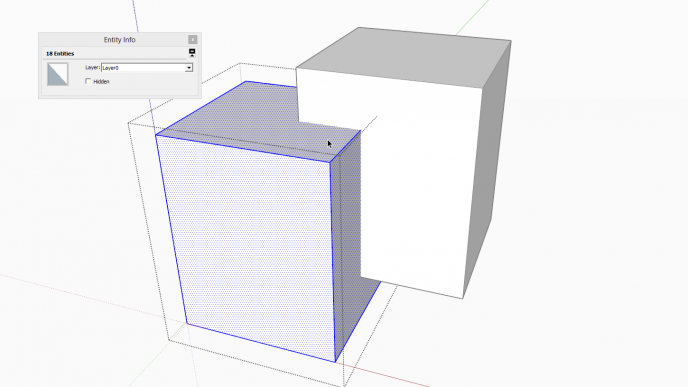 ...or explode one (now everything is auto-selected) and cut...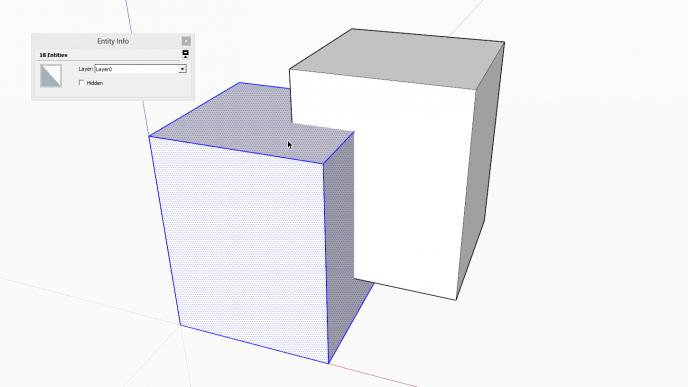 ...edit the other group and Edit menu > Paste in place (one of my favourites - best is to set up a shortcut key under Preferences > Shortcuts - I have Shift+Ctrl+V).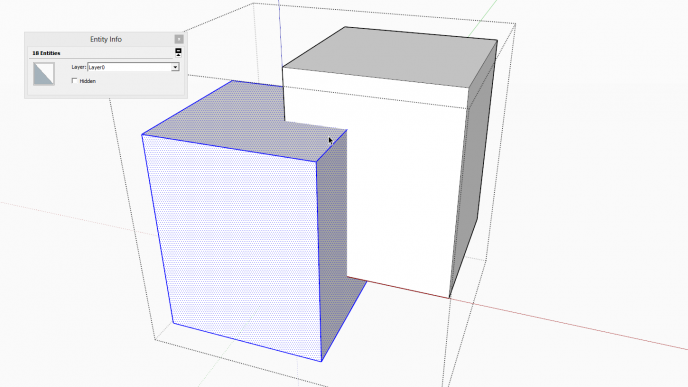 Now you can perform the intersection operation affecting the geometry sets of both (previous) groups while you are still separated from other parts of the model inside a single group.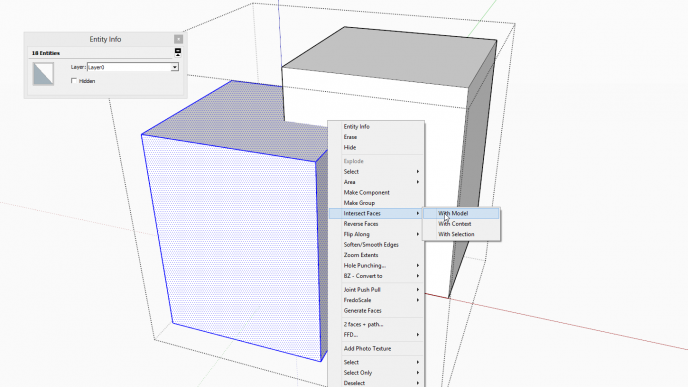 Just a glimpse into the next tutorial: above I used "Intersect With Model" while the below screen-shot shows ("Intersect With Context". The difference will be that anything outside the group (but intruding into the space it occupies) will affect the intersect operation above but only what's inside will be affected below.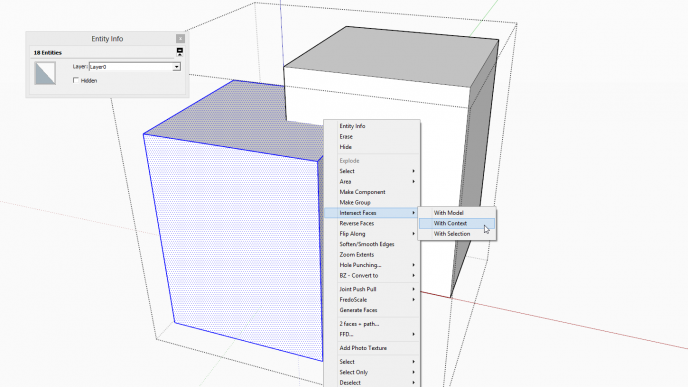 In our case (as there's nothing else in the model) it's indifferent but see the intersection edges nicely created below.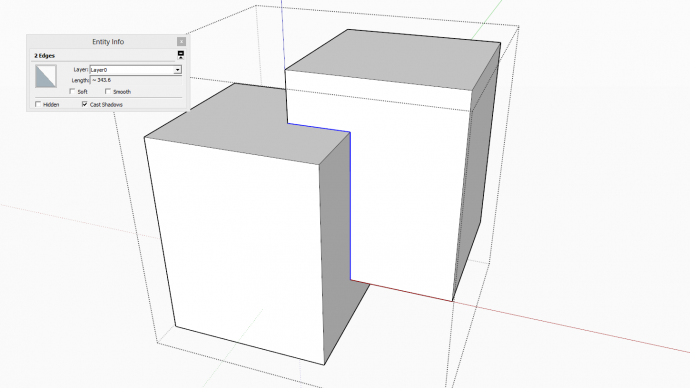 Registered members are welcome to discuss this tutorial on the forums.